Creating a LinkedIn Profile that Will Get You Interviews
Job searching is a tedious and often disappointing task. The most important part of applying for a job is getting an interview where you can show off your personality and really make an impression.
The problem is, you can apply to a handful of jobs a day and still find yourself getting little to no replies.
What are you doing wrong? How can you increase the number of employers who want to speak with you?
While there is an obvious importance on how closely you match the position, as well as the formatting of your resume, the modern job searching world puts a large level of attention on your LinkedIn presence.
Active participation on LinkedIn is the best way to say, 'Look at me!' without saying 'Look at me!

– Bobby Darnell
LinkedIn has become exceedingly popular in the professional and career sector. The platform allows for personalized portfolios that give hiring agents and professionals a way to fully examine your experience. The credibility of the experience and your skills can be backed through endorsements by your colleagues on the platform.
Though LinkedIn profiles are crucial for modern job seekers, they are not all created equal. A field experiment conducted by ResumeGo discovered that job seekers with comprehensive LinkedIn profiles were 71% more likely to get a job interview than those without.
Let's take a look at how to build a LinkedIn profile in a way that will improve your job search results.
---
First Impression – Profile and Background Photo
If an employer opts to check out your LinkedIn profile, the first thing they will see are your profile and background photos. Equate this to the first look an interviewer will get of you when you walk through their door.
Would you show up to an interview at a marketing agency wearing cutoff jeans and a wrinkled t-shirt?
Not likely.
These are the same considerations to make when creating the photo elements for your LinkedIn page.
Your profile photo should reflect your professionalism. A professional head shot, or a faux-professional head shot taken at home, are far better suited for your page than a selfie you might pick for your Facebook or Twitter.
Step 1: Once you have decided on a great profile photo, you can add it to your account. To do this, log in to your LinkedIn account and click the profile photo circle.
Step 2: This will take you to your profile, where you need to click the photo circle one more time.
Step 3: Now LinkedIn will offer to let you take a picture with your camera or upload a file. Since you have already taken and selected your professional photo, you will want to opt to upload a file.
With your profile photo uploaded, it is time to consider a great background photo.
LinkedIn provides you a standard blue background photo. Keeping this photo up shows a prospective employer that you haven't put full effort into your profile.
There are a few ways to approach picking a background photo.
One option is to pick a photo that reflects your career goals. If you work in writing, you could find an image of a typewriter or books. An accountant might want an abacus or financial documents.
Another option is to find a photo that is indicative of your location and shows pride in your community.
If you can't think of any images that particularly speak to you, it is okay to just find a photo of abstract shapes and colors that add a personal appeal to your page.
Here's an awesome site with free background photos for LinkedIn:
The most important thing is that you ensure that any images you use are either owned by you or found through a creative commons search database. Legally and morally, you should never use images created by someone else who has not given you permission.
Adding your background photo is easy.
From the profile page select the pencil icon located next to "more."
This will bring you into the editing pane, where you can select the blue pencil in the upper right-hand corner of the background image, which will open up your computer files to allow you to select the image you want to upload.
Keep in mind that LinkedIn advises to use images that are 1,584 x 396 pixels for the background photo.
---
Intriguing Headline and Descriptive Summary
With your images taken care of, you need to focus on the meat of your profile. Namely, the headline and summary.
These areas are vital to letting any viewers know what you do, why you do it, where you do it, and what you want to be doing.
Let's start with the headline.
The headline is fundamental because the keywords you use in the headline are what help you to come up in search results when employers are seeking candidates. With this in mind you should focus your headline on:
What you want to be doing
What you can and are doing
Or both
To edit the headline, click the blue pencil near the "more" button to open the editing pane.
You can edit your headline directly in the editing pane. Let's look at a bad sample and a good sample.
The good headline is filled with keywords for both the user's current job, projected job, and competencies in which they are skilled.
Once your headline is complete, you can move on to the Summary.
The summary is where you will go into further detail about the items in your headline. Effectively, the headline will get the employer's attention and the summary will sell them on you.
To edit your summary, go to your profile and pick the drop-down menu labeled "add profile section," then pick "about," and finally "Summary."
Your summary should be written in your personal voice, like a miniature autobiography.
You want to hook the reader in with a creative and intriguing opening line and continue to impress with a personal look into you, your work and education history, and your career goals.
If you want to advertise that you are seeking a job, this is the place to do it.
You can also add links to media that is relevant to you (portfolio, published articles, business website, etc.).
---
Accurate Contact Information
Simple as it may seem, this is a crucial reminder. Your LinkedIn contact information needs to be accurate.
Sometimes we move, switch emails, or change phone numbers and don't think to update our social media accounts.
That isn't much of an issue for a personal account but making a mistake like that on your professional LinkedIn can lead to missing amazing connections or job opportunities.
To update your contact information, go to your LinkedIn profile and click on the blue "contact info" link below your profile photo.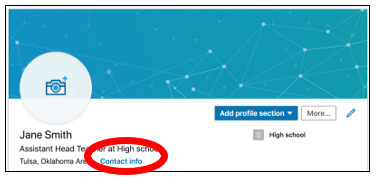 This will open the editing pane where you can add a website, phone number, email, messenger, address, and birthdate.
---
Your Background – Experience, Education, Certifications, Volunteering
Now we will cover what makes your LinkedIn a social resume – the background information.
LinkedIn offers four background information categories:
Work Experience
Education
Licenses and Certifications
Volunteer Experience
You can add each of these sections to your page by going to your profile and clicking "add profile sections," and "background."
Begin by adding your work experience if you have any. On a resume, you will condense your work history to the relevant positions to the job you are seeking. On LinkedIn, you will want to list your entire work history. This will help you with job searching and making connections with other users.
The education section is important for improving the views to your profile. According to LinkedIn, users who add their alma mater get 11% more views than those who don't.
Licenses and Certifications are also a great piece of information to add to your account. Some employers may be searching for specifically licensed or certified employees and including the information on your profile ensures that you come up in their search results.
Volunteer Experience has a couple of big benefits to your profile. First, volunteer work is a great extension to job experience and is especially helpful to those with little job history. Second, expressing your interest in causes helps to humanize you and gives prospective employers insight into your personality.
What Makes you Special – Skills and Accomplishments
Your LinkedIn profile is already starting to look professional and polished, but now we are going to talk about the fun part – bragging.
The Skills and Accomplishments sections are a fantastic way to let everyone know what you are good at and all the things you've done, without looking unprofessional.
Both sections can be accessed from the "add profile section" menu.
You can add up to 50 skills to your profile and LinkedIn will even suggest some marketable skills to you based on your work history.
For accomplishments, you have eight category choices ranging from "publications" to "additional languages." Be sure to look through all the accomplishment sections carefully and add any true information you can to your profile.
Additional Tips for Improving Your Profile
Beyond the standard information sections of your LinkedIn profile, there are a few extra things you can do to really make your page stand out.
Seek Connections

One of the best ways to help your profile get more views is to seek out people you know on LinkedIn. This may be colleagues, former teachers or professors, classmates, trainers, or any number of individuals. These connections are a fantastic way to build up your reputation and get your profile in front of more people.


Request a Recommendation

Through the "add profile section" menu you can access the "additional information" tab which allows you to request a recommendation from a LinkedIn connection. LinkedIn will help you personalize your request, and the recommendation will be added to your page – boosting your reliability and credentials.



Request Endorsements

Similar to requesting a recommendation, you can ask your connections to endorse your skills. This means they are stating that they have seen proof of your proficiency in that skill. The more endorsements for a skill you have, the better it looks to prospective employers.


List your Profile in Another Language

If you are bilingual, you should take advantage of the "support languages" menu under the "add profile section" drop-down. This allows you to create a copy of your page in an additional language. This helps increase your likelihood of receiving an interview by ensuring that employers who speak any of your fluent languages have access to your profile.


Create a Custom URL

When you create your LinkedIn page, LinkedIn issues you a randomly generated URL. It is typically a sequence of numbers and letters that is difficult to memorize. When you share your profile with others, you want them to be able to remember your URL so they can share it or look back on it later. From your profile page, click the blue pencil next to "more."
Scroll to the bottom of the editing pane and find the final field. Click the blue pencil.

At the top of the new editing pane you will have the option to create a custom URL. Choose something simple and memorable, like your name.
Creating a custom and comprehensive LinkedIn profile takes a little time and effort, but the results speak for themselves. Not only will your new profile impress the employers when you apply for a job, but you will find employers actively seeking you out for interviews. It pays to know your worth in the job market and show it off accordingly.
---