Jobs & Pay Rates for Amazon Delivery / Driver Jobs Columbus Ohio
There are typically 50 to 150 openings for Amazon delivery and driver jobs around Columbus Ohio at any given time.
How Much Do Amazon Delivery Drivers Make in Columbus Ohio?
Average pay for Amazon Delivery jobs in Columbus Ohio is $20.93 per hour which equates to:
$20.93 per hour
$837 per week
$3,627 per month
$43,534 per year
Amazon delivery jobs are offered through authorized Delivery Service Partners which provide training and vehicles for drivers.
Hiring Now – Amazon Delivery / Driver Jobs Columbus Ohio
---
How Do You Apply for Delivery Jobs with Amazon in Columbus Ohio?
Follow these simple steps to apply for a delivery job with Amazon in Columbus Ohio:
Go to this page to search for a Delivery Service Partner.
Filter the results for Columbus Ohio or your respective zip code.
Browse for openings you're interested in and click Apply.
Complete the guided application process.
The DSP hiring team will review your application and contact you.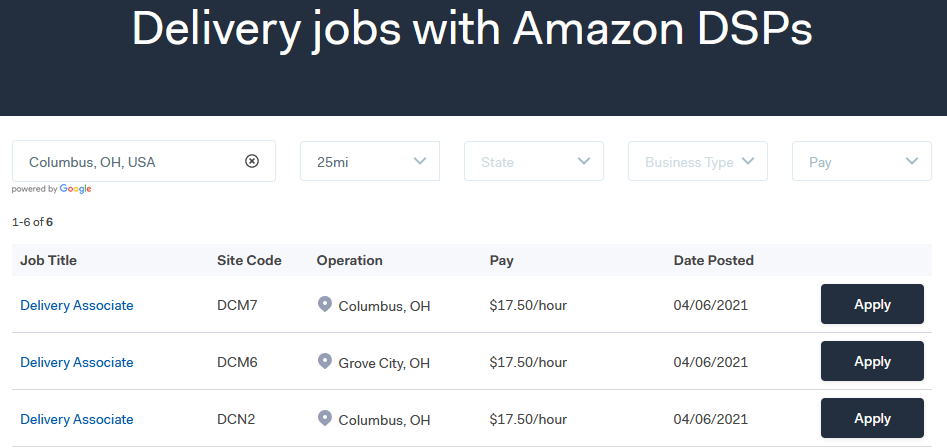 ---
What is Available for Amazon 2 Hour Delivery in Columbus, OH Area?
To see what's available for Amazon Prime Now 1 or 2-hour delivery you can download and search the Prime Now app or visit Primenow.com and enter your zip code to check availability and search from thousands of available items.