The City of Dallas has over 100+ jobs open for hire at any given time including parks and recreation, sanitation, water department, fire department, police.
City of Dallas Jobs
The City of Dallas employs about 13,000 people with an approximate annual budget of $25 million.
The city has an average rating of 3.8-Stars across 496 reviews from past and current employees.
Favorable reviews mention work-life balance, excellent benefits, and a good stepping-stone to other opportunities.
Bad reviews mention bad management, low pay, and disorganization.
There are over 60 departments within the City of Dallas organization including:
Parks & Recreation
Sanitation
Water Department
Fire Department
Police Department
---
City of Dallas Parks and Recreation Jobs
The City of Dallas Parks and Recreation department is one of the countries largest municipal park systems.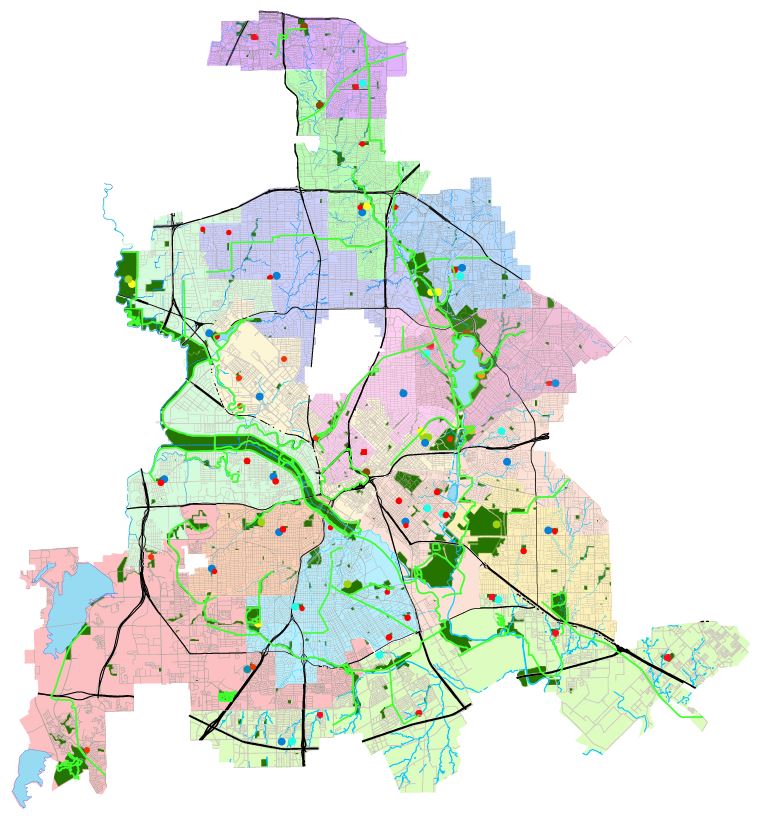 It maintains approximately 397 parks with close to 20,000 acres of land under management.
The department is officially a non-profit organization that is directed by a 15 member board selected by members of the City Council.
It functions through hundreds of paid employees as well as local volunteers.
Typical parks and recreation positions include:
Crew Leader
Laborer
Waterpark Attendant
Recreation Center Assistant
Concessions Supervisor
Grounds Supervisor
---
City of Dallas Sanitation Jobs
The City of Dallas Department of Sanitation Services manages garbage and recycling collection, brush and bulky trash collection, and landfill transfer stations.
It provides reliable solid waste collection and sanitation services to over 240,000 households in Dallas.
They have an aggressive plan to achieve sustainability in operations and reduce the volume of discarded trash.
Within the department some of the common jobs include:
Laborer – Sanitation
Director of Sanitation Services
Mechanic (Heavy Equipment)
Inspection
Truck Driver
---
City of Dallas Water Department Jobs
The City of Dallas Water Department provides water and wastewater / storm drainage services to approximately 2,500,000 people in and around Dallas.
They can treat up to 900M gallons per day and maintain 5,005 miles of water mains.
Most jobs with the Water Department require at least a high school diploma or GED as well as a valid driver's license.
Some of the most prevalent Water Department jobs include:
Water Plant Operator
Wastewater Collection Supervisor
Flood Control Manager
Mechanic
Laborer
Crew Leader
---
City of Dallas Fire Department Jobs
The Dallas fire Department was started in July 1872, when "Company Number One" was initially formed.
There are now 58 official Dallas fire stations reaching from Duncan Hill to North Richardson.
Its mission is to prevent and suppress fires educate and rescue citizens provide emergency medical services promote public safety and foster community relations.
Here are a few of the requirements to qualify for a firefighter job in Dallas:
US Citizen or permanent resident
At least 18 years of age. Not older than 36 years old.
High school diploma of GED
Physical ability test
Pass a medical exam
Valid driver's license
---
City of Dallas Police Jobs
The Dallas Police Department's goal is to help people and provide assistance at every opportunity.
They are committed to respecting and protecting the rights of citizens as determined by law.
It's been in existence for over 120 years and has over 3.6K officers and 550+ civilian employees that make up the department.
Their territory is divided up into Patrol Divisions which are regional segments of the overall city.
Some typical positions with the DPD include:
Dispatcher
Officer
Supervisor
Manager
Personnel Manager
Investigator
---
Related Jobs